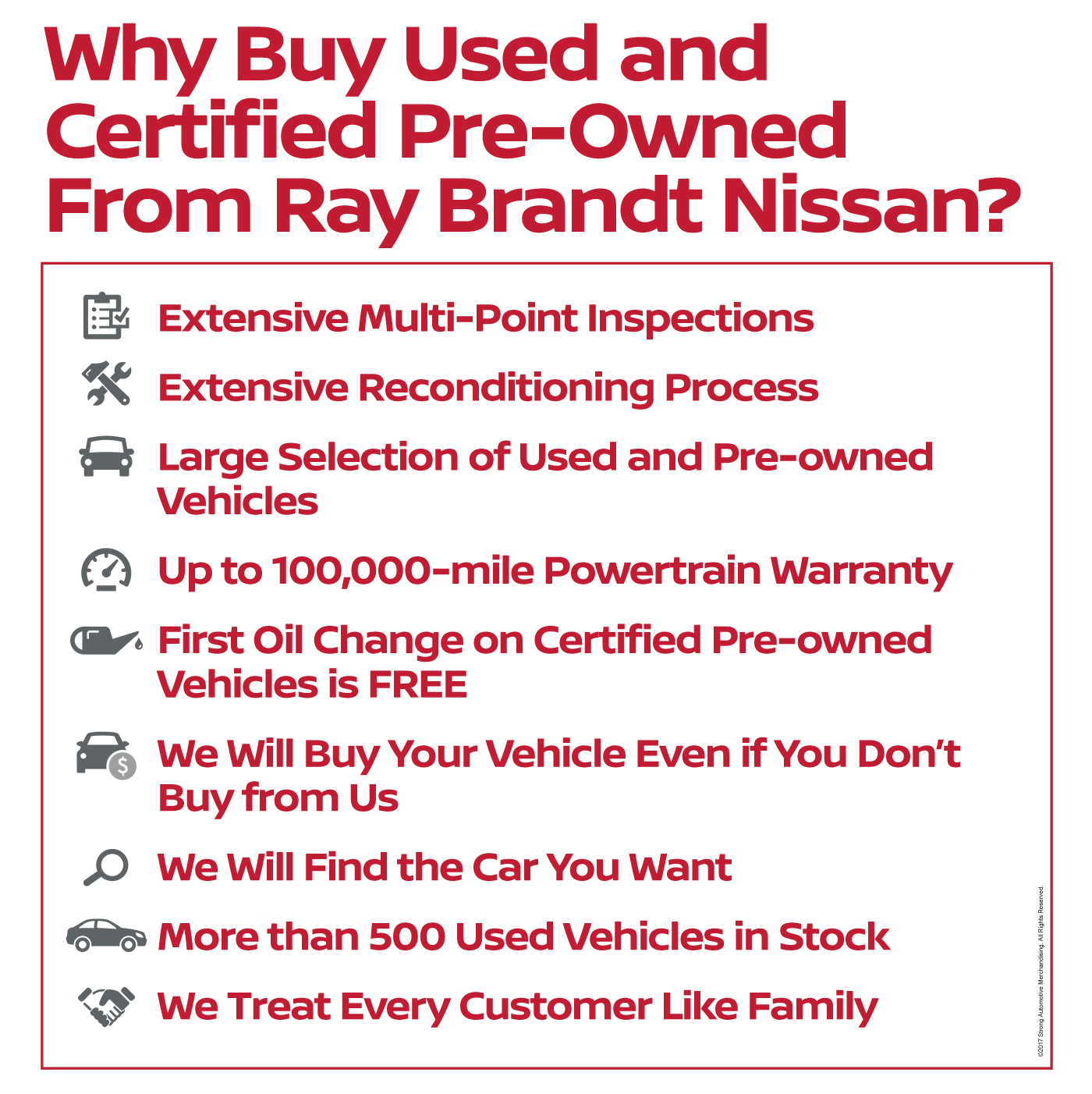 Why Buy Your Used or Certified Pre-Owned Nissan in Harvey, LA
Ray Brandt Nissan in Harvey, LA offers used car sales. We have a wide selection of used cars as well as a friendly staff and a multitude of financing options. All of the used vehicles on our lot have been through an extensive multi-point inspection, as well as a thorough reconditioning process. Drivers around New Orleans will also receive an up to 100,000-mile powertrain warranty on their used vehicle. When you come to Ray Brandt Nissan you'll receive a top-quality vehicle without breaking your budget. Our staff listens to your car buying needs from the type of vehicle, the features you want, and the budget you are working with. That way we can help answer your questions and guide you to a confident decision on your used vehicle.
Why Buy Used from Ray Brandt Nissan?
When searching for a car, many people don't even consider buying used. They may think they are unreliable, or maybe they make the presupposition that a used vehicle is outdated and doesn't have the features that they want. However, these concerns are not necessarily accurate. Not only can used cars save you money, they are actually, more often than not, in pristine condition and have contemporary features. When you buy used, you get more car for your money, so you may be able to get a vehicle that you couldn't dream of affording when it was new.
Additionally, used cars are generally well taken care of because they may have been leased previously, which means they were meticulously maintained by the dealership and have minimal miles. Also, there is a tax incentive to buying used. When you buy a used vehicle, you typically pay less than buying new, so your overall price is lower, and your sales tax is lower too. Not to mention, it's often cheaper to register a used car.
As you can see there are plenty of reasons to purchase a used vehicle. While it's not necessarily the right choice for everyone, it is often the right choice for many. Come check out our used car selection at Ray Brandt Nissan, or contact us today to set up an appointment!
Visit Us for Your Used or Certified Pre-Owned Nissan
In addition to the appealing reasons to buy a used vehicle in general, Ray Brandt Nissan offers even more. We have an extensive collection of used cars for you to shop from, and we are confident that we have the vehicle with the right features and the price tag to fit your needs. Our vehicles are thoroughly inspected before they are put on the lot, and our sales team is knowledgeable about each vehicle so you can be confident in your purchase. We also offer a range of financing options to suit people with poor credit, new credit, or great credit. Plus, our service center is always available to our customers if they hit any bumps down the road. Plus, your first oil change on any Certified Pre-Owned Nissan is on us!
At Ray Brandt Nissan in Harvey, you are part of the family, and we intend to treat you that way. So, come see us today and let us guide you through the used car buying experience.